"The people in my community are praising me for the crop growth and germination rate on my farm (i.e. planting distance and planting in rows). They are seeing the possibilities of higher yields and good harvest compared to last year."
Afua Kpokoja, a mother of 5 children, is a smallholder farmer producing maize in Gbanderi in the Kpandai District in Ghana. She has been an active member of the 4R Rural Commercial Women Group (RCWG) and has participated in several training and field days on the 4R Nutrient Stewardship project.
After her training, she decided and adopted the 4R practices this year on her maize farm. She has also inspired several other women and men, smallholder farmers, in her community to adopt the methods, which include planting in rows at specific distancing with the aid of garden lines. Owing to the knowledge acquired in the 4R demonstration fields, she has committed herself to empower her women group members by teaching them the agronomic practices promoted by the 4R project. She believes that good agriculture practice will boost their yields.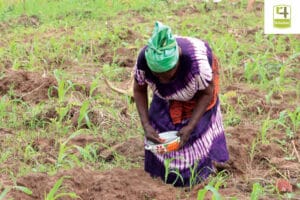 "I chose to plant my field in rows and with the required distancing. I dibbled and buried the fertilizer so the crop receives the right nutrient. This practice will help to retain fertilizer despite the rains. I am hoping for a good yield this year".
The 4R Nutrient Stewardship Project is enhancing a climate-smart farming approach for smallholder farmers in Ghana. Under the project, smallholder farmers understand fertilizer use per 4R principles, i.e., using the right type of fertilizers at the right rate, at the right time, and at the right crop for better growth and yield.
With this knowledge, Afua is advocating the agriculture practice to other women farmers in the community.
"This year, I know we will harvest a lot of maize in this community like never before. A lot of farms are looking great, and the farmers are happy. If the rains don't fail us, we are sure of a bumper harvest. We will store some, sell some, get enough money to look after our children, and do other businesses."

As part of our approach to ensure sustainability and food security in Ghana, the Community Volunteer Agric Extension Agent model will support Agric Extension Agents (AEAs) from the Ministry of Food and Agriculture to provide ready support to their colleague farmers at the community level.
The CVAEA model bridges the gap between smallholder farmers and the district AEAs. With 'undesignated Community Volunteers' like Afua, farmers will learn to do the "right thing" while increase yields and ensuring a clear path to food security and poverty alleviation in Gbanderi and other parts of Ghana.
Project Progress
Gbanderi in the Kpandai District in Ghana

No. of Smallholder farmers project is targeting in this district: 7500 smallholder farmers (1071 households)
Women-led:  17 female leads
Reach – Reached 8,786 farmers of which 5429(women), 3357(men)
Major Crops: Maize, Groundnut, Yam, Soya, Rice
Challenges: Access to production input & services (Inputs, tractor services, markets) and  drought