Elevate Leadership Skills, Expand Horizons
Download the Global Learn and Share Brochure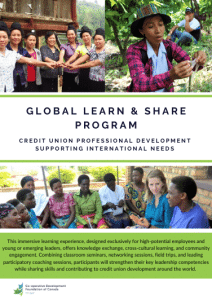 Elevate your leadership skills with the Global Learn and Share Program by CDF Canada. This immersive professional development opportunity is tailor-made for credit unions to empower your high-potential employees and emerging leaders. Join us on a journey that fosters cultural competencies and highly effective leaders aligned with your credit union's vision.  
Program at-a-Glance
Unleash the potential within your team through our comprehensive cross-cultural program that blends community engagement and knowledge exchange.
This transformative experience incorporates: 
Classroom Seminars:

Guided by premier apex associations and financial institutions from host countries who share knowledge of the regional and local credit union context including regulation, challenges, and innovations. Discovering commonalities and differences will provide participants with a profound understanding of the global sector. Participants acquire detailed contextual knowledge and essential soft skills, with a strong emphasis on cross-cultural competence. 

 

On-Site Coaching Exchanges:

Participants will provide tailored capacity-building sessions and coach local credit union teams to tackle real challenges identified during the predeparture processes. 

 

Networking and Forums:

Enhance core leadership skills such as communication and collaboration, fostering cooperation within and beyond borders. 

 
Unlock Opportunities for Learning & Sharing
How employees benefit
Enhance Cultural Competence:

Refine your soft skills, strengthen your understanding of the credit union sector, and explore global nuances.

Social Responsibility:

Fight poverty and make a lasting impact using the Credit Union/Co-operative model.

 

(Re) discover the power of Co

–

ops and

Credit Unions

:

U

nderstand

the uniqueness of your sector and how your organization is part of a global movement

to make a difference

.

 

Resilience and Adaptability:

Gain fresh ideas and strategies for your credit union by immersing yourself in diverse environments. 

 

Leadership Excellence:

Strengthen your core competencies and maximize your impact.

 
How organizations benefit
By participating in the Global Learn and Share Program, you invest in your organization's current and emerging leaders. This program empowers individuals to achieve:
Personal Growth:

Enhance resilience by navigating diverse landscapes, challenges, and triumphs.

 

Meaningful Impact:

Positively influence local communities.

 

Global Perspective:

Broaden horizons with exposure to diverse credit union models, regulatory frameworks, and market dynamics. 

 

Elevate Your Organization's Brand:

Boost employee morale, retention, and establish your reputation as a forward-thinking institution valuing continuous learning and a global perspective. 

 
Sending your employees to the Global Learn & Share Program allows your organization to embrace a professional development opportunity tailored to the credit union sector. It not only nurtures leadership skills and talent but also enhances employee satisfaction and retention.