There are so many great reasons to volunteer with CDF Canada. Share your skills and knowledge with others, round out your resume with new and marketable skills, learn a language, gain a global perspective, or find personal and professional inspiration. Checkout current VOICE project volunteer opportunities below.
You Can Create Lasting Change
Whether it's a desire to give back or to discover a corner of the world you've always wished to experience, our volunteers bring a mix of motivations to their CDF Canada assignments. Whatever moves you to volunteer with us, the experience is sure to enrich your life beyond your expectations.
We're looking for volunteers to help us create lasting positive change in the world, to help us build co-operative institutions that will go on to serve their communities long after our projects end. Co-operative experience is not always a pre-requisite for volunteering with CDF Canada.
We're looking for volunteers to engage with us at any and every level, whether that means traveling to one of our projects in Africa, Asia, Latin Americas or Eastern Europe, or providing your valued support right from your own home.
Our e-volunteers reach across oceans and time zones without ever leaving Canada, helping people in distant places learn new skills, map a way forward, discover new opportunities, overcome challenges or test new services.
Every year volunteers host and mentor visiting women credit union managers in their own homes and credit unions as part of our highly successful Women's Mentorship Program. As an in-Canada volunteer you will discover new talents and skillsets as you help your visitor adapt to new personal and professional surroundings. The experience leaves your family and friends, credit union colleagues and members, teachers and community leaders inspired, proud and appreciative of our global community.
VIEW AVAILABLE VOLUNTEER POSITIONS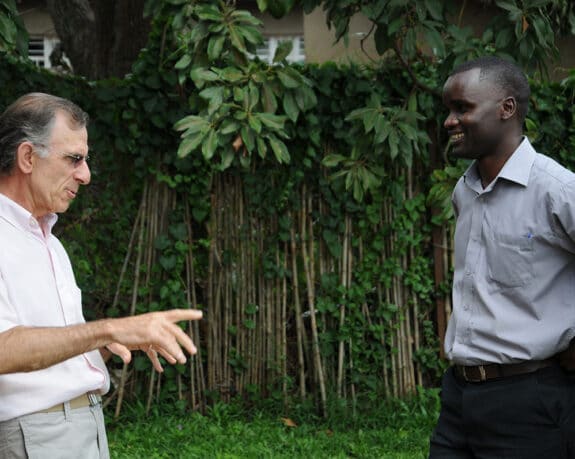 The Challenge
Our volunteers are creative problem-solvers, able to identify challenges and design innovative solutions that help our local partners overcome barriers to success. We're not reproducing models without consultation. We're collaborating with communities around the world to break new ground. You, as a CDF Canada volunteer, are integral to the process.
Help us Build a Better World
CDF Canada volunteers are engaged at every level of our organization – sharing practical expertise and experience with overseas partners (staff and board), raising funds for CDF Canada's programs and educating Canadian co-operators about how co-operatives are serving the needs of communities around the world. They play an important role in building a better world and promote sustainable livelihoods through co-operative development.