ICM 1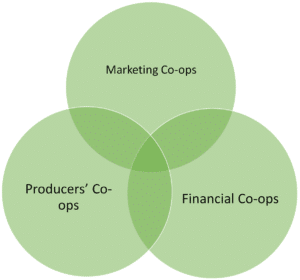 The Co-operative Development Foundation of Canada (CDF Canada) created the Integrated Co-operative Model (ICM) as a development approach to improve sustainable, climate-resilient, gender-equitable economic well-being for small producer farmers. This integrated co-operative approach benefits producers – both women and men – by increasing production and productivity, and improving access to markets and financial services.
The original ICM model or ICM 1.0 focuses on promoting an integrated network of co-operatives in the communities. The model involves three types of co-operatives – producer co-ops (focusing on production), marketing co-ops, and financial co-ops – that work closely together to serve the economic needs of both their individual members and the co-operatives themselves. Together, these co-operatives offer a suite of services for a holistic and integrated approach to rural development.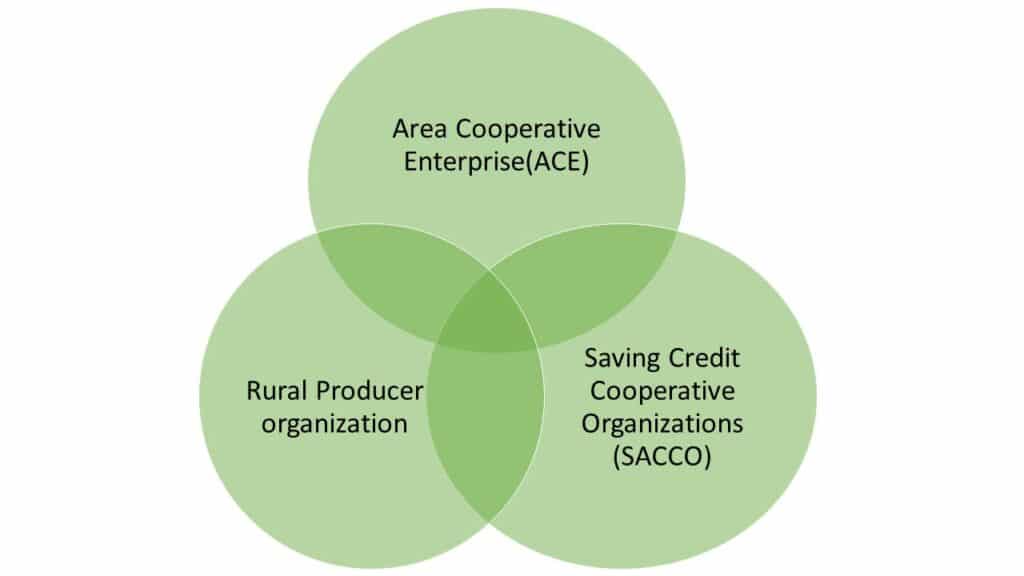 The ICM 1.0 has been used for decades (and is still in use today) by CDF Canada and partners in Uganda, Ghana, Rwanda, Ethiopia, and Colombia. An in-depth study of the integrated model in 2010 found that farmers had improved access to markets and extension services through their production and marketing co-ops, and improved access to credit through their membership in financial co-ops. Implementation of the integrated model resulted in improved household income, as well as increased food security for households headed up by both men and women.
ICM 2.0 + helps addresses the world's crises
From 2020 to 2021, CDF Canada actively explored the application of ICM 2.0 as a potential international development approach to deal with climate change, the pandemic, and other potential crises. ICM 2.0+ is the result of comprehensive discussions and research, consisting of two parts: "ICM2.0" and the "plus". ICM2.0 plays a role as a social or institutional solution: for example, a program delivery vehicle or technological adoption vehicle. And the "plus" is the scientific or technological practices (such as climate-smart agriculture practices) or thematic programs targeting specific topics or issues (such as emergent covid-19 response in rural communities).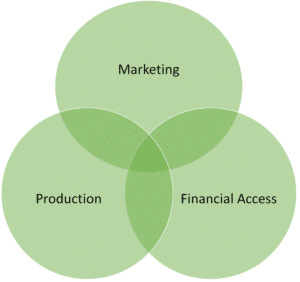 The rationale behind the ICM 2.0+ approach is that ICM 2.0, by focusing on three basic elements of communities' economic community needs. By using co-operatives – locally-owned economic and social entities – as a vehicle, it's possible to mobilize local motivation and engagement, adapt to local culture and norms, cultivate the local human capital, and achieve economic or financial viability, so that the positive community impacts (of the "plus") delivered through the international development projects are long-lasting, well beyond the term of the projects.
The figures show two CDF Canada applications of "ICM 2.0+", one fighting climate change and the other facilitating pandemic response in rural communities. The centre of the three circles (production, marketing, and financial access) is the "plus", the targeted goal (such as pandemic response) or practice (climate-smart agriculture); and production, marketing, and financial access are the three pillars to support the viability of the practice. For example, for a climate-smart agriculture practice to be economically sustainable in the local community, the farmers need to see financial success in marketing the products or get compensated if they sacrifice their income to red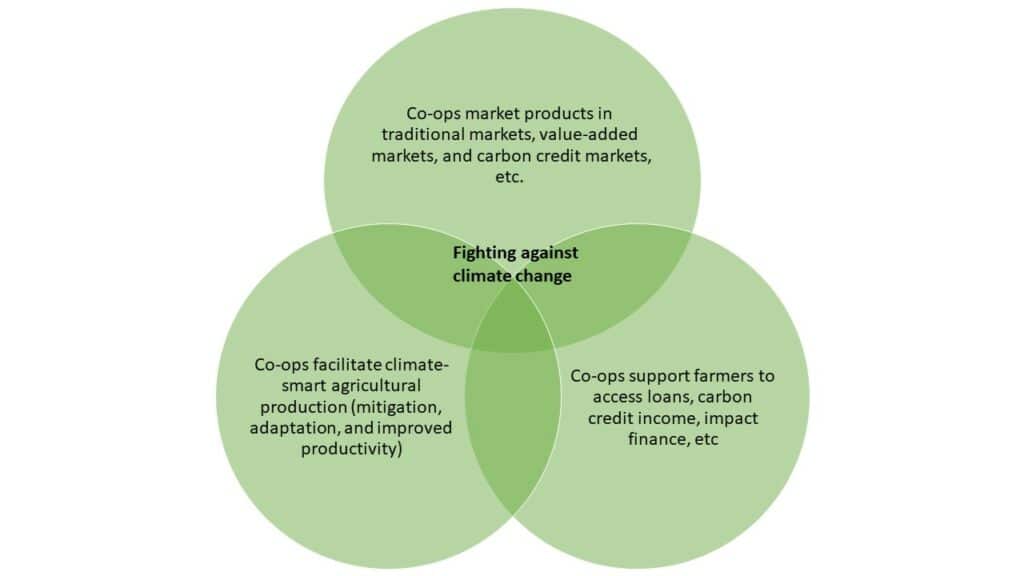 uce carbon emission – something co-operatives and partners can certainly play a big role in when it comes to supporting farmers to achieve these goals.
Moving forward, CDF Canada will continue to evaluate and improve upon the ICM model (ICM 1.0, ICM 2.0, and ICM 2.0+) based on evolving and changing needs, lessons learned, and evidence collected from our projects. If you have questions or advice related to ICM, please email qwan@cdfcanada.coop.