Getting produce to market has not been easy for farmers Samuel Macharia, Mary Kareji and Mary Atienohad who live in Bondo Nyironge village, Migori County, Kenya. They only had two choices to get their produce to market: hike with it or hire a motorbike to carry it, options that were physically exhausting, time-consuming, and expensive.
Bicycles meet transportation needs
Their lives – and finances – were greatly improved with a bicycle donation.
This donation is part of a partnership between the Co-operative Development Foundation of Canada (CDF Canada) and the Canadian insurer, The Co-operators.
Ninety-seven bicycles were purchased and donated with the goal of helping farmers deliver their produce to market while increasing family and community income.
So far, the project has been successful because bicycles have helped farmers save on transportation costs. In particular, the recent fuel shortage in Kenya has highlighted this challenge that farmers face.
Besides expensive transportation costs, bicycles are also important in rural Kenya because roads are unsafe, crowded, and farmers have limited access to vehicles, social amenities and markets.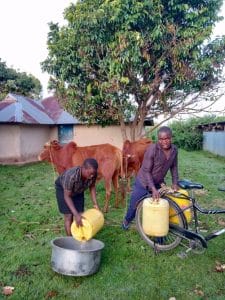 The bicycles helped the Macharia, Kareji and the Atienohad family farm. As members of the Bondo Dairy Co-operative Society, they grow maize, beans and vegetables. They also have six cattle – four bulls for ploughing and two milk-producing cows.
They use their bicycle to get their milk to the dairy co-operative and to market, and they also use it to bring fertilizer from the shopping centre to their farm. In addition, they use their bicycle to shop, get water from the well, take their young children to nursery school, and go to the hospital.
Bicycles carry crops
The bicycles are an affordable, time-saving, and eco-friendly method of transportation and are designed to withstand the African terrain.
Bicycles are unisex, have robust, puncture-proof tires, and include a carrier frame, which can carry up to 100 kg, meaning a sack of maize can be carried on the bike.
Besides farming, riding a bike is also exercise for farmers. Some say it's helped with their minor ailments. For example, Mr. Macharia said his knee joints have stopped aching while Ms. Kareji and Ms. Atienohad no longer carry heavy loads on their heads thus reducing backaches. Other farmers use their bikes to get to farms in the interior, which are inaccessible by road.
The bicycle donation has also benefited gender equality. Some women use bikes to get their children and grandchildren to run errands, get water, or go to the market or school. Families also share their bikes with relatives, friend, and neighbours.
Bicycles are also making life more manageable for Jane Niagra Opila.
The 60-year-old farmer said her bicycle saves her money because transportation is no longer a cost, and it has increased her efficiency on the farm.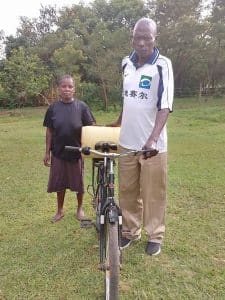 Her grandson uses the bicycle to transport cassava and millet from various farms to their homestead where Ms. Opila prepares them for sale. She uses the bicycle to travel from her village to the water wells, farms, co-operative office, trading centres and for family trips. Her grandchildren use the bicycle to fetch water for the home.
What's more, bicycles help farmers sell their products. Widow Janet Akoth, who farms vegetables and cereals, has a makeshift stand at the corner of her home, which serves as a grocery store.
She uses the bicycle to re-stock her groceries and get water from the well. Her son, Tillen, uses the bicycle to go to school.
Through her stall, she has money to take care of her family and invest the transport costs savings in improving her business.
The bicycle donation to Kenyan farmers has gone a long way. It saved time, money, improved family lives and women's lives: bicycles help lighten the load of unpaid work for women, which contributes to significant gains towards gender equality by reducing time-poverty, paving the way to women's empowerment.