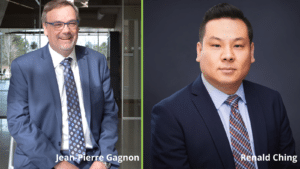 CDF Canada today announced the appointment of Jean-Pierre Gagnon, President and Executive Director of Farm Mutual Re , and Renald Ching, Vice President and General Counsel at Everlink Payment Service Inc , to the board.
"We feel honored to welcome the two directors to the board of CDF Canada. Their experience in the fields of mutuals and financial services will help complement and enhance the current board. In addition, their established track records are a huge asset to CDF Canada as we strive to build our brand and expand our reach worldwide," Bruno Dragani, Board-Chair, CDF Canada.
We are thankful to our outgoing board members Cory Munden and Mark Ripplinger as they successfully concluded their service to the board. Our board members consist of a dedicated team of cooperative leaders committed to providing stability, advice, and solutions for CDF Canada to move forward.