"I don't use ox to plow my field, but now I drive a tractor. I am learning new ways of farming for better yield, but also about balanced nutrition," says Kelem Negash
A single mother of 3 sons, Kelem Negash, is a smallholder farmer in the Eranbuti village of Minjar Shenkora district, East Shoa zone, Ethiopia.
After losing her husband a decade back, Kelem Negash learned to tend to labor-intensive farm activities and manage the house and child care. However, due to limited financial resources, she could not take long-term help from farm laborers called Jigi.
As part of the 4R Nutrient Stewardship Project, Kelem Negash is now a member of Multi-Purpose Cooperative in the Eranbuti village. The project supports the cooperative in the district in distributing inputs like fertilizers and providing credit facilities to members. A tractor is also available for smallholder farmers to cultivate their land in the cluster.
"Besides providing agricultural inputs, the cooperative has provided me with a tractor service for free. The ox plow was more labor and time-intensive. The agricultural extension agents are also educating us to make and use fresh nutrients to the surface of the field by burring weeds, and crop remains to decay for better results." Adds Kelem.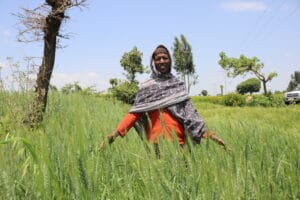 As a cooperative member, Kelem Negash has also been provided with agricultural inputs like fertilizer and equipped with essential business skills, leadership and assertiveness training, and credit facilities. "In addition to crop production, my sons and I are engaged in the sheep fattening and poultry farming business. The business has improved the nutritional status of my family as well as brought us extra money," Kelem Negash added.
Kelem Negash family is also one of the 83 Gender Model Families (GMF) recruited in the eight intervention communities. They are trained on Gender Model Family Manual.
As part of the GMF group, she has helped bring attitude change among the family members, which has helped to bring increase participation for men in the household work. "Traditionally, men would not help at household work, but today, my sons help me and share household responsibility. It is a good and positive change," adds Kelem Negash.
Kelem Negash is one of the many women who are stepping up and taking the responsibility of agriculture, food security, gender equality, nutrition etc.
Every year in October, we celebrate World Food Day and International Day for Rural Women, and International Day for Eradication of Poverty. The above story reflects the importance of bringing women to the center of the solution to create a more equal and sustainable future.