I have a vegetable garden that I tend for my family and sell the extra in the nearby market. If it were not for the ACCESS projects, I would have been looking for firewood in the forest to sell for money, said Selmata, Wechiau Community, Ghana.
I don't worry about what I am going to do tomorrow. The fund received through the program has helped me to re-start my business, said Aynalem Hailemichael, Hageremariam, Ethiopia.
These are a few of the many stories of the women and men farmers who benefited from the ACCESS project last year in Ethiopia and Ghana.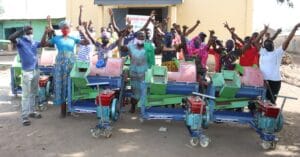 In early 2020 as the COVID-19 unfolded, economies across the world raised the alarm leading to lockdowns. The pandemic exposed the vulnerabilities and tested the existing systems' resilience from healthcare, supply chain to food systems, and people in vulnerable communities, especially women.
Due to lockdown and other restrictive measures, the smallholder farmers in Ethiopia and Ghana, suffered significant setbacks and temporal food shortages. Low access to seed and farm inputs, high cost of hired labor, and lack of access to agricultural finance were a few of the major challenges.
With financial support from Global Affairs Canada, CDF Canada implemented a nine-month COVID-19 food security emergency response project (ACCESS Project) in Ethiopia and Ghana. The project reached over 20,000 farmers in Ethiopia and Ghana. Initially, the project provided tractor services for ploughing, planting inputs, fertilizer, livestock, small ruminants, dry season vegetable inputs, tools, equipment, and financial support for business expansion.
"Today, I know how to do row farming; the ACCESS team taught us to dibble and applied the fertilizer, which is different from how we have been doing things in the past. We already see good results in the maize field, and I am expecting a good harvest.  The training has helped the community immensely," said Juliana, Nyoli Community.
In addition, the project trained smallholder farmer households in vegetable production and provided financial resources to women entrepreneurs in petty trading.
Our local partners, 4R Nutrient Stewardship Project, supported the farmers and communities despite COVID-10 restrictive measures. Despite the project's short-term, the team provided food security needs to over 12000 direct beneficiaries and over 26000 indirect beneficiaries.
The project helped:
Female and male smallholder farmers with increase access to agricultural inputs (e.g., seeds, fertilizer) purchased and distributed to farmers through cooperatives to produce nutritious foods.
To invest in post-harvest and storage structures, establishing market linkages, and other marketing support for farmers.
Increased gender-equitable access for female and male smallholder farmers and landless and disabled persons to inputs, assets, and other supplies for farms as well as home and community gardens through the establishment of a COVID-19 voucher-based grant facility.