The International Day of Cooperatives is an annual celebration of the cooperative movement that has taken place on the first Saturday of July since 1923.  
This year on July 2, 2022, we are celebrating #CoopsDay under the theme of Cooperatives Build Better World. The aim here is to increase awareness of cooperatives and promote the movement's ideas of international solidarity, economic efficiency, equality, and world peace.
Since 1947, CDF Canada has been working with the cooperative community by mobilizing its expertise to help develop coops at home and around the world.
Read the blog stories of impact from the field, where the programs are operating on cooperative principles across sectors and countries, and how these principles have helped cooperatives to be more resilient to crises and build a better sustainable world. 
Ukraine: Building Sustainable Garment Industry 
Despite the war, the SEW Ukraine project team is adjusting activities to address current needs and increase the level of economic confidence among women affected by hostilities. Therefore, cooperative development training was conducted as the first project event since the beginning of the full-scale Russian military invasion of Ukraine.
Business skills training was organized in a hybrid format (on-line, May 30-31, 2022) for women who would like to establish or restart their sewing microbusinesses and discover the advantages of the cooperative business model for their professional and business development. Besides cooperative development, the event discussed pricing strategies, business registration and financial accounting, and marketing instruments for apparel promotion. Read more about the project's plans and also how other garment clusters are working together. The blog is written by Olha Luchka from Ukraine.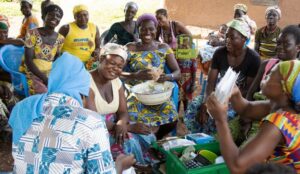 Ghana: 4R Cooperatives Building a Better World!
"I will be lying If I said 4R cooperative has not benefited us and the entire community. Our lives have improved significantly." – Cooperative Chairman Kito Nkwanta.
Read the blog post about the work undertaken by 4R Nutrient Stewardship Project in Ghana and how it is helping to build a better world.
Ethiopia: 4R Cooperatives Building a Better World!
Selam Bahiru, a single mother with two children, is a Saving And Credit Cooperative Organization (SACCO) member living in the Eranbuti community of Minjar Shenkora district. "Seven years ago, I started a street coffee and tea business with a small capital to support my family. However, I could not run the business due to the capital limitation. But after joining the SACCO, they granted me a loan that solved my capital deficit," added Selam.
Learn about Selam and Nasanet from Ethiopia – they are educating, training, and working to build a sustainable future for themselves and their families.