Co-operatives in Malawi are producing reusable sanitary pads to help women develop an additional source of income and reduce social barriers about menstruation.
Reducing social barriers
Twelve co-operatives across the country, including the Mikoko Co-operative, are manufacturing, and selling reusable sanitary pads through the Co-operative Development Foundation of Canada's VOICE for Women and Girls program.
The co-operatives started selling their products in May 2022, and so far, they have been successful.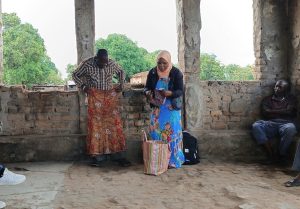 In just one year, the co-operatives have produced 852 sanitary pads. They sold 560, donated 100 to schools and they met a high demand for liners and produced 209 of them.
"Through this initiative, the Mikoko Co-operative has signed an agreement with Tholowa Health Centre Hospital to deliver reusable pads," said one of the co-operative members.
A small percentage of profits goes to the health centre, allowing the co-operative to help their new clients.
Equally important, the project has increased communication and awareness around menstruation. Men are now more receptive to discuss menstrual hygiene and menstrual products and they are buying these reusable pads for their wives and daughters.
At the same time, the co-operatives are making a profit. For example, the Mikoko Co-operative achieved
60 000 MKW in profits.
More sewing machines were purchased
Besides achieving profitability, businesses, such as the Mwandama Co-operative, had difficulty keeping up with demand.
As a result, four additional sewing machines were bought by the co-operative, allowing them to deliver their orders on time. They also changed their production schedule, authorizing staff to use the machines at different times of the day.
"The board saw an opportunity to support women to share skill sets and teach other women and new members of the co-operative and committed to purchasing more sewing machines," said the Mwandama Co-operative president.
When the project began, co-operative members were taught hand and machine sewing, as well as marketing, and budgeting.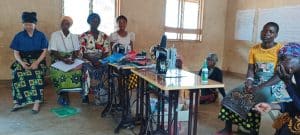 "During the training we were advised to share the skills with other women in our co-operatives," explained one of its members. "We are grateful for now we have something very productive that we are contributing to the co-operative as well as the community."
The success of the reusable sanitary pad business, along with the transferrable skills acquired, led some co-operatives to expand their businesses. For example, the Namulenga Co-operative began sewing dresses and other clothing items. In the same way, the Mikoko Co-operative has expanded its business to include making school uniforms, skirts, dresses, and repairing damaged clothes.
With support from the VOICE for Women and Girls program, co-operatives have made important contributions towards gender equality through this initiative. In addition to providing young women and girls with menstrual pads, which helps increase their attendance in school, the project has also helped destigmatize harmful beliefs around menstruation. At the same time, women who provide the pads are empowering themselves by increasing their own income and contributing to their co-operative's success and productivity.
Volunteers play an important role
Prerna Ajwani is a volunteer from Canada who wanted to make a difference in the lives of girls and women and became involved with the reusable sanitary pads project.
As part of her responsibilities, she developed the project by conducting a needs assessment using focus groups and interviewing co-operative members as well as project participants. Then, she analyzed the data to determine training topics.
It is volunteers like Prerna who dedicate their time and talent to help empower girls and women and make an important contribution to gender equality.