Females are vital to the development and well-being of their families, communities, and countries. However, most women in Malawi regularly miss up to 50 days of school and work each year due to their lack of access to affordable sanitary pads. While inexpensive, eco-friendly, and sustainable sanitary pads exist, distribution channels have not been expanded to meet the needs of those in rural areas.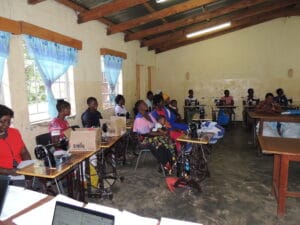 For this reason, the Malawi Federation of Cooperatives (MAFECO), with funding from the Co-operative Development Foundation of Canada, is implementing the Strategic Innovation Fund (SIF) Reusable sanitary pads project. MAFECO works with 12 co-operatives in Southern Malawi to set up Women's Groups (WG). Each women's group will consist of ten women, of which five will come from lower-income households in rural areas. The project will assist WGs in starting a social business to enable more girls and women access education, good health, and employment.
In addition to learning how to sew reusable sanitary pads by hand and machine, two women from each co-operative participated in a four-day training to learn procurement, marketing, group dynamics, best practices of the trainer-to-trainer approach, and business management. These 24 women will further train the others in their WG, bringing the project's reach to 120 women.
The project will also educate on health education and advocacy. Women were trained to work with mother groups and teachers to address the challenges girls face in the community and schools regarding menstruation.
Each co-operative received a base set of materials and two sewing machines. While the goal is to sell the pads in schools and through mother groups and teachers. Later can also be sold to shops, community members on market days, etc. In addition, the project has a social responsibility aspect whereby each WG is expected to donate ten reusable sanitary pads per month to girls who cannot afford them.
Key project goals:
Produce affordable and eco-friendly reusable, sustainable sanitary pads.
Create a sustainable business that will increase the financial well-being of women in coops.
Change cultural views regarding menstruation, sanitation, and hygiene through education.
Improve long-term educational opportunities for girls.
Prerna Ajwani and Mitesh Sankhar volunteered with the VOICE for Women and Girls and supported during the training for this program. So we speak to them to understand the women, communities' responses, and learnings.
Response to the Training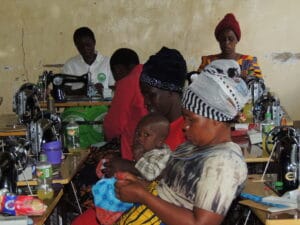 Prerna Ajwani: Women and girls at the base of the pyramid are included at all stages of the value chain—as entrepreneurs or employees in production, distributors, health educators, and consumers. The four-day training was targeted to women. Each woman had a different set of skills and was willing to support others which boosted the team morale and enthusiasm.
Findings from our Baseline and Needs Assessment indicated that men sometimes fail to provide adequate monetary and emotional support to their wives and daughters due to cultural reasons. During the training, women themselves offered suggestions on how we can overcome these challenges:
Encourage men in the co-operatives to be the first customers to normalize buying pads and setting aside money for their daughters and wives.
Men should be present during co-operative discussions on this project so that they can also become advocates for menstrual hygiene management (MHM) in the community.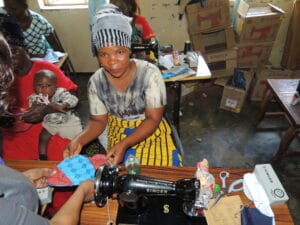 Mitesh Sankhar: During the training, the woman responded well to understanding how hand sewing skills could be transferable to the women in their communities. As a result, we adapted the training to help the woman better gain the skills they need to succeed in a local context.
Additionally, the men were not present in these training, but upon delivery, the co-op men expressed their willingness to support the women in creating the pads and learning the new skills.
The women were the primary teachers and supporters during this project. Meeting all the participants, we better understood how menstruation is understood and how we can help teach the new generation that will allow them to live with better sanitation and health standards.
Challenges
Prerna Ajwani: Since we completed the acceptability and feasibility evaluation for this project, we were able to sensitize co-operatives to the idea of the project and its deliverables. It was simple to engage and recruit women for the training. The only difficulty we experienced was that not all women met the requirement of having previous knowledge of using a sewing machine. This set back the training schedule as we had to cover the basics of using one.
Through the Baseline and a Needs Assessment, we gathered information from the co-operatives on what topics should be covered in training. This helped us to create resources for the participants.
The other queries included how to work within the coop setting?
What supports the co-operative and CDF Canada would provide? and
Where would the WG be positioned within their respective co-operatives? 
Mitesh Sankhar: The women were highly engaged in the training and willing to learn, but few of them did not have the means to leave their babies at home. This made it difficult as some of the women to focus. Overall, the common question was about how they could engage the men and boys in the communities. A big concern they had was how to have the discussions around menstruation.  
My Key Learnings

Prerna Ajwani: My takeaway from this project is that in the development context, one must be extremely flexible and adaptable to the realities of fieldwork. While this has drilled us through all the international development courses we take in university, it is different when one is running a project in rural communities. For example, we created a four-day training schedule for this project and anticipated certain things to move around. However, since the sewing machines did not arrive on time to be set up the day before the training, our schedule was delayed by three hours on the first day. Nevertheless, the entire team was calm and collected, and with help from the trainers, we rearranged the schedule to make the best use of our time. We acted quickly, but there were setbacks and new challenges every day. For the local team, this was fairly normal, and they could adapt easily. With their support and patience, I learned how to act on my feet and provide support to team members on the go.
At the same time, many aspects of running a project were simpler in Malawi. We frequently visited co-operatives and communities to gather information and it was much easier to arrange these meetings and have the cooperation of community members. As a result, there was a strong sense of community and willingness to work together. Even when the training was delayed, the women did not express frustration. Rather, they provided suggestions and supported us as we rearranged the schedule.
On another note, this was my first MHM project and I could see the impact that M&E can have in informing project activities. I interviewed schoolgirls in the project communities to understand barriers to school, the lack of support for menstruation, and how help can be provided. We were able to take these learnings and train women in co-operatives on working with mother groups and teachers to address the challenges girls face at school, at home and in their communities. Seeing my research in action was incredible, and sharing the findings with women who felt empowered to make a difference was incredible.  
Mitesh Sankhar: My key takeaways from this project are mainly surrounding how we can approach these types of projects in the future. Understanding a local context and being able to adapt to a constantly evolving environment was what caused this project to be a success. Being able to engage and communicate how the reusable pads were to be made and the system behind them helped to ensure that the women were going to be successful in their role of not only making the pads but of educating within their communities.
Mitesh Sankhar is a graduate of York University's Bachelor in Environmental Studies with Honours. He is interested in understanding individuals' growth in partnership with the environment. He is highly passionate about international perspectives and gaining first-hand experiences working with local partners and stakeholders. Mitesh is continuing to explore the environmental sector after working with project coordinating teams.
Prerna Ajwani is a graduate of York University's Bachelor of Arts in International Development, with experience in researching and evaluating policies, programs, and mechanisms related to human rights, conflict, and sustainable development. She is extremely passionate about understanding culturally appropriate solutions to social inequalities, sustainable growth that embeds a rights-based approach, and impact evaluation of International Development programs. Before stepping into the field of International Development, Prerna worked in the Canadian Corporate Social Responsibility sector, where she helped manage national volunteer and fundraising programs.