Olha, a small business owner from Lviv, has been looking at ways to meet her customers' needs because her successful business is having trouble keeping up with orders.
She sells more than 500 products per month.
Using top-quality products
Her business is popular because she uses premium Italian fabrics and clothes made of natural silk and wool. In addition, coats are made from cashmere while denim and down jackets are stuffed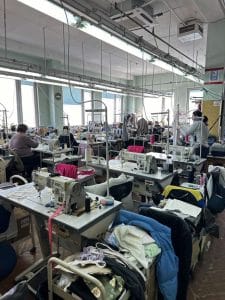 with the best Ukrainian goose down. What's more, the business keeps costs to a medium price range while offering maximum quality, Olha said.
However, her company has faced challenges. First, she outsourced the tailoring to outside factories. Second, her employees stuffed the down jackets in their own experimental workshop because she couldn't find a factory to do it, she said.
"The time of having my own production facility has come," Olha said. "Project opportunities will help in reducing the cost of products, professional development and offering higher salaries for our employees."
That's when she turned to the Supporting Economic Prosperity for Women and Internally Displaced Persons in Ukraine (SEW Ukraine) program for assistance, which allowed her to grow professionally, develop her brand, and learned how to establish a co-operative.
With SEW Ukraine's support, she learned how to improve her business model to create a competitive, innovative, and environmentally sustainable business. Olha attended workshops on establishing a co-operative, understanding the co-operative concept, business planning, legal issues training, strategic and business planning sessions, and economics.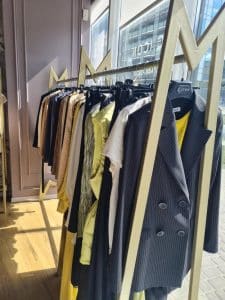 What she learned through SEW Ukraine was important because it allowed her business to get to the next level.
She's one of the founders of the "Lvivsky Pukhovyk" (Lviv Down Jacket) service co-operative, which was registered in April 2023. She also has ambitious domestic and international plans for her business.
Instead of outsourcing, the facilities and equipment of the co-op will allow Olha's employees to do most of the work – down stuffing, template stitching of the pressure pad, and side stitching of the down jacket.
While some operations will still be outsourced, Olha sees more production operations integrated within her company. In particular, she sees more economic opportunities because many world producers left Ukraine during the war.
"The co-operative model for the sewing business is beneficial primarily for experience exchange, costs optimization for each co-operative member and, accordingly, for greater profit," she said. "We plan to offer customers not only the best down jacket in Ukraine but offer new items in Ukraine and abroad. Therefore, we will work on all quality standards for export to the EU (European Union)."
Fulfilling a childhood dream
Working in the garment industry has been Olha's dream since childhood. Growing up, she experimented with clothes, wanting to change them or wear them in a non-standard way. However, at  school she studied higher mathematics and mechanics. But the garment industry was still calling her. As a result, she took fashion courses and began working on providing shoes and clothes for clients.
"When I had a large enough customer base, I understood their needs and requests," Olha said. "Among Ukrainian brands in 2016, there were no decent ones in the price/quality ratio. That's why I decided to start my own business."