Most Ethiopian women are facing the unavailability of energy access, which is harming their health, children's education, and family's finances as well as the environment. 
For Asnakech Wodo, a 55-year-old Savings and Credit Co-operative Organization (SACCO) member living in Abya woreda, Semero kebele, the lack of energy access impacted how her family lived and how they interacted with the world around them. 
"I was in a dark house and room for decades with no electric power or other option," she said. 
Asnakech isn't alone. Most rural households in the initiative's target area are using local energy sources, such as kerosene, dry batteries, and wood for lighting.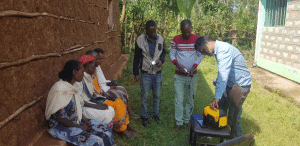 What's more, these local energy sources are expensive and not accessible in rural villages. The high price caused Asnakech to ration these fuel sources, resulting in her family eating and sleeping early. In addition, the family lacked sufficient access to news outside their kebele.  
"We were away from information transmitted through the radio," she said. 
When you take a closer look, the unavailability of energy resources also perpetuates gender inequality. 
After working in the fields to support their family for most of the day, women and girls prepare dinner, clean the house, organize the sleeping area, take care of the kids and milk the cow – all in the dark.  
What's more, women and girls hold and move the lamp where the light is needed. This results in household chores taking longer to complete and it increases their fatigue. 
Besides kerosene, traditional lamps are made from bottles and woof, which is a spin made of cotton put in the middle of the bottle that sucks the kerosene from the bottle and feeds it to the lamp on top. These materials create respiratory infections for women and girls and the absence of proper lighting is also affecting children's educational performance.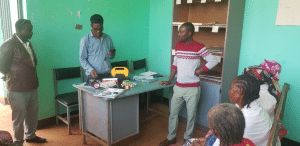 To help reduce these issues, the VOICE for Women and Girls Program (VOICE) provided solar power lamps. 
After consulting with the community in Oromia regional state, West Guji zone Abya woreda, the initiative was approved and 140 solar power lamps were purchased for co-op members. 
The goal is to reduce the workload of women and girls in the house and help children's education by creating a comfortable studying environment for them. 
Moreover, the lamps provide more than light. Besides the hand torch, four bulbs and mobile charging station, it also has a radio that connects co-operative members to the world and their communities.  
Furthermore, the solar lamps allow women to make money because they can provide a service of charging other peoples' cell phones. They can also save money because the lamps are free, the energy is abundant and it's environmentally friendly. 
Asnakech said the solar lamp initiative saved her family money because they don't use as much kerosene and firewood as well as it allows them to eat and sleep later.  
VOICE for Women and Girls Program 
VOICE for Women and Girls (VOICE), funded by the Government of Canada, is a volunteer cooperation program (2020-2027) that aims to strengthen the performance of developing country partner organizations to advance gender equality and economic empowerment of 50,000 co-operative and credit union members from marginalized communities in Ethiopia, Ghana, Kenya, and Malawi. 
The program, supported by volunteers, strives to address the challenges and barriers that adversely affect the economic and social well-being of vulnerable groups, with particular emphasis on women and girls. VOICE aims to respond to the needs identified by these groups and to increase the capacities of individual producers and primary co-operatives, to support more inclusive, sustainable, and resilient growth. Supporting institutions such as apex organizations, co-operative unions, and government/regulatory bodies will also be engaged to increase the capacity and prioritization of vulnerable groups.  
CDF Canada recruits volunteers through its considerable network of industry associations, co-operatives, credit unions, employers, academic and training institutions in Canada and engage the co-operative community and general public to support Canada's international development efforts through the implementation of its Feminist International Assistance Policy.