I speak to this from a different angle, I speak from the viewpoint of people of the arctic because my parents still live in these communities.  Climate change is happening and we are adapting to the changes. I think we (people from the Arctic) still need to continuously be part of climate change discussions. When it comes to indigenous topics or indigenous approaches, we are kind of an afterthought and not at the forefront or the center of discussion on issues like these. We need to be part of the solution for climate change.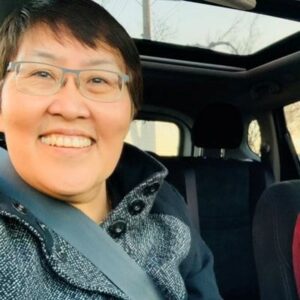 Mary Nirlungayuk, of the Arctic Co-op, speaks to us about CDF Canada's 75th Anniversary.  
CDF Canada and Arctic Co-op have a long history of partnership.  When I started my career in the co-op sector in the Arctic, I was able to participate in a project on women's leadership, with women visiting us from Africa.  At Arctic Co-op, we can understand life indoors and the remoteness in places like Mongolia or Africa. We too face these challenges because we live mostly indoors and in remote communities in the Arctic. So, we can relate to the challenges that are taking place in the African communities. We too need to innovate or find solutions when we face challenges or roadblocks.  
Governance, the Women's Mentorship Program (WMP), and financial literacy are a few of the areas that Arctic Co-op and CDF Canada can work on together. For example, in our continuous efforts to bring about gender equality in our communities, we now have equal participation on our boards, with women in leadership positions who are part of the decision-making.
Wishing CDF Canada a Happy 75th Anniversary!   
What a significant milestone for the Foundation, especially with the work undertaken on the WMP  and other projects on the ground. I've always been an advocate for women's leadership and mentorship programs, so for me, the WMP is a significant achievement for not just the people in the Arctic, but for all the women around the world!