Both organizations recently appointed women CEOs who are graduates of CDF Canada's Women's Mentorship Program (WMP).
Both Mercy Tumukunde, STEADFIN Uganda, Evelyn Olunja, KUDS Kenya participated in CDF Canada's WMP in 2018 and 2019. This meaningful program contains a segment where a Canadian credit union hosts participants. They benefit from mentorship and information sharing and exchange opportunities – a key part of their training and development experience.
Mercy's placement was with Interior Savings Credit Union, and Evelyn's with Entegra Credit Union.This aspect of the WMP significantly enhances the participant's development experience through their interactions with Canadian credit union employees and respective leadership.
Both Evelyn and Mercy have attested to the value of CDF Canada's WMP and how it directly contributed to their career development and progress. Evelyn said,"I sincerely want to thank CDF Canada for the WMP, which made me realize my full potential and gave me the confidence to try bigger positions. A big thank you to all my mentors."
Since its inception in 2002, CDF Canada's Women's Mentorship Program has enabled 254 women credit union managers from 27 countries to receive this unique professional development experience, including a placement opportunity with over 200 credit unions across Canada.
CDF Canada is proud of Evelyn and Mercy's accomplishments and knows they will continue to inspire other women cooperators now and in the future. 
About Evelyn Olunja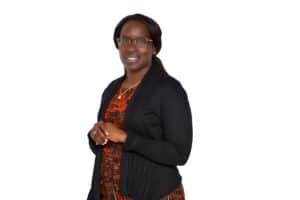 Evelyn Olunja is a highly skilled and talented Business Development & Marketing professional. She has an over 20 years track record of successful business management at corporate level. She is a seasoned Co-operator who for the past twelve years has steered Business Development by acting as a bridge between the members and Saccos, interacting closely with them to understand their needs so that Saccos develop products and services to satisfy the identified needs as they meet their objective of growth.
Evelyn is a Credit Union Development Educator (ADE), a member of World Council of Credit Union's Global Women's Leadership Network (The Kenyan Champion), the Chairperson of the of Women in Cooperative Societies, Kenya, a Board member of the Africa Women in Cooperative Network and an alumnus of the Cooperative Development Foundation of Canada's Women's Mentorship Program.
Ms. Olunja is currently pursuing a Doctor of Philosophy (PhD) degree in Business Administration at the University of Nairobi, holds of a Master of Business Administration degree from the same university and a Bachelor of Science degree in Mathematics from Catholic University of Eastern Africa among other certifications. She is a member of the Board of Marketing Society of Kenya that gives direction to the marketing industry in Kenya.
About Mercy Tumukunde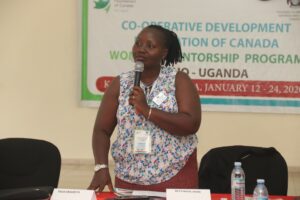 Mercy has seventeen (17) years working experience in Savings and Credit Cooperatives (SACCOs), Microfinance and the Banking industry at both operational and strategic levels. She has been the General Manager of the Franciscan Investment Co-operative Society Ltd (FIC) St. Francis Chapel Makerere University, where she has served for the last 11 years. Prior to FIC, Mercy worked as a Credit Supervisor at Post Bank Uganda Ltd for 4 years and as Credit Officer at the Microfinance Support Centre Ltd (MSC) for 4 years.
Mercy is an African Development Educator (ADE) under the African Confederation of Co-operative Savings and Credit Association (ACCOSCA). She is a champion for the Co-operative Development Foundation of Canada (CDF Canada) Women Mentorship Program and the current Chair of the African Women in Co-operatives Network of ACCOSCA.
Mercy holds a master's degree in Management from the Uganda Management Institute (UMI) and is pursuing an MBA at the Uganda Martyrs University (UMU). She holds a Diploma in Microfinance from the Uganda Institute of Banking and Financial Services and a post-graduate Diploma in Human Resource Management from UMI. She also holds a bachelor's degree (Honors) in Education majoring in Economics from Makerere University.