Every year Oct 16 is celebrated as World Food Day to raise global awareness of food, agriculture, and hunger. This year we are celebrating the theme – It's your day!
The theme focuses on the role that each community actor needs to perform to help transform agri-food systems. Thus, it is not the contribution from one actor but all actors – policymakers, private sectors, farmers, civil society, and individuals – like you and me.
Research shows more than 80% (475 million) of the world's farms operate on less than two hectares of land and provide an estimated 80% of the food produced in Asia and in sub-Saharan Africa (SSA) (Lowder et al. 2014).
Despite smallholder farmers' significant contribution to the food bowl, there has been limited progress. Till today, smallholder farmers face the challenge of poverty, limited access to inputs, climate change, and no market access, and little to no financial support.
For the last 75 years, CDF Canada has worked closely with smallholder farmers and building a self-reliant and sustainable cooperative community. Guided by the Integrated Cooperative Model of connecting the producer, marketing, and financial coops, CDF Canada continues to strengthen and build coop communities globally.
Every year in October, we celebrate World Food Day and International Day of Rural Women, and International Day for Eradication of Poverty. This year read the stories of change that reflect the importance of bringing women to the center of the solution to create a more equal and sustainable future.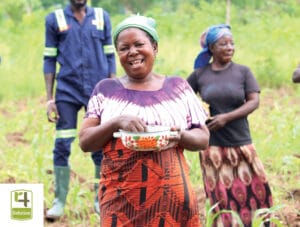 "The people in my community are praising me for the crop growth and germination rate on my farm (i.e. planting distance and planting in rows). They are seeing the possibilities of higher yields and good harvest compared to last year.  Afua Kpokoja, a mother of 5 children, is a smallholder farmer producing maize in Gbanderi in the Kpandai District in Ghana. She has been an active member of the 4R Rural Commercial Women Group (RCWG) and has participated in several training and field days on the 4R Nutrient Stewardship project.
After her training, she decided and adopted the 4R practices this year on her maize farm. She has also inspired several other women and men, smallholder farmers, in her community to adopt the methods, which include planting in rows at specific distancing with the aid of garden lines. Owing to the knowledge acquired in the 4R demonstration fields, she has committed herself to empower her women group members by teaching them the agronomic practices promoted by the 4R project. She believes that good agriculture practice will boost their yields. Read more about her learning and journey
Empower Women Farmer and She Empowers the Community 
"I don't use ox to plow my field, but now I drive a tractor. I am learning new ways of farming for better yield, but also about balanced nutrition," says Kelem Negash
A single mother of 3 sons, Kelem Negash, is a smallholder farmer in the Eranbuti village of Minjar Shenkora district, East Shoa zone, Ethiopia.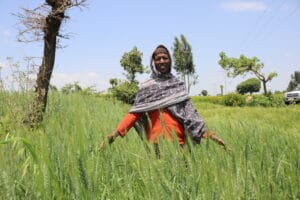 After losing her husband a decade back, Kelem Negash learned to tend to labor-intensive farm activities and manage the house and child care. However, due to limited financial resources, she could not take long-term help from farm laborers called Jigi.
As part of the 4R Nutrient Stewardship Project, Kelem Negash is now a member of Multi-Purpose Cooperative in the Eranbuti village. The project supports the cooperative in the district in distributing inputs like fertilizers and providing credit facilities to members. A tractor is also available for smallholder farmers to cultivate their land in the cluster.